Mosaics
This enjoyable craft enables you to make and create beautiful art works with no previous experience or artistic talent. Each creation is original and easy to produce, with rewarding results.
At Studio 88. all equipment and tools are provided with templates and materials to make small wall hangings, garden pavers, decorative pots and other decorative items.
We have an abundance of broken china and colourful tiles ready for your project and from 18 years experience with mosaics and ceramics – the knowledge of how to make it.
Each person is able to choose their own project to work on, and will be supported and guided throughout the session. Safety gear and hand tools are also available for your use and instruction on how to use it.
Mosaics are easy and fun and all ages are welcome at Studio 88 Classes in Wadestown, Wellington (just a stones throw from Lower Hutt and Petone).
Classes run throughout the year on a 6 week cycle. Workshops are on weekends, either one day or two.
One-on-one mosaic coaching is available on request, depending on availability..
Studio 88 is currently under construction, so no classes are running at the moment, our apologies for any inconvenience.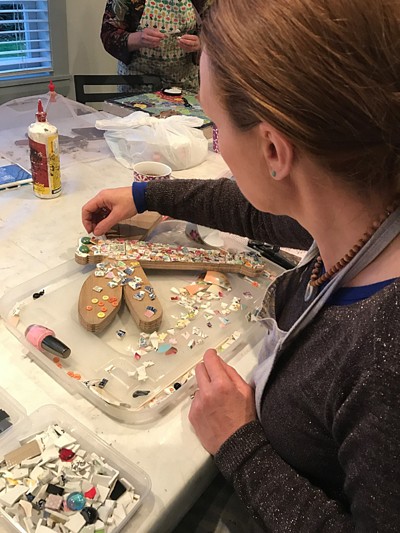 It can take something broken ... to make something beautiful
Please feel free to ask any questions in advance.
SERIES 1:
6 weeks - starting
SERIES 2:
6 weeks - starting
TIMES:
LOCATION: Studio 88, 19 Anne Street, Wadestown, Wellington
"Thanks for providing us with a fantastic experience... everyone is still raving about it and saying it was the best xmas party they have ever been to."
Elke - Gane Health Centre